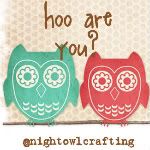 Time for another round of questions on Hoo Are You Tuesday over at Night Owl Crafting. Click on over and join the fun and get to know some fellow bloggers.
Here are this weeks questions!
1. Have you ever broke a bone or anything on your body?
I've broken my hand, but not found out until a couple of weeks later when the doctor said the bones were already mending. I've also broken some ribs from coughing. Yes coughing! There is a lot of pressure developed in the process of coughing and sneezing and if you try to brace your body during either of these, the bones will snap.

2. What is your favorite drink?
I would have to say my favorite drink is hot chocolate or chocolate milk; although what I drink most of the time is water. Oh.... did you mean alcohol? Then it would be a Sloe Screw. I'm not into alcohol much, so the more sweet and less alcohol the better.

3. When is your birthday! You don't have to tell the year you were born!
January 14. Sucky time to have a Bday, 'cause people are just getting over Christmas and New Years and tend to forget about it. 'Cept my hubby and kids. They always remember, at least by the end of the day!

4. Do you have an allergies?
Allergies?!? Why yes, yes I do. I had eczema as a teenager, related to a nickel allergy. (no cheap earrings for me) Luckily, I grew out of this, the eczema, not the nickel allergy. I then developed hay fever which has stuck with me. Not too bad until I reached the perimenopausal era of my life in which I would develop sinus infections from said allergies. Now that I'm into menopause, the allergies seem to have lessened considerably (that may be one of the few perks of menopause)
5. What is one of your all time favorite movies?
I think Roadhouse is a good one. Hubby and I have a running joke about one of the lines in the movie "I ain't got twenty bucks!" The movie I've watched the most times would be The Wizard of Oz. I remember watching it every year around Christmas time when I was a child. Now, though I haven't watched it for about 10 years. It's
A Wonderful Life and White Christmas are also ones that get watched very often.