If you enjoy reading my posts, leave a comment at the bottom.
I really like getting feedback and respond to every comment or question.
So please, won't you leave me some footnotes!
I just joined the
Blog Guidebook
.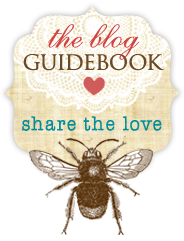 You can sign up for free until June, 2011
From their site:
The Blog Guidebook is the vision of two friends who want to see the blogging community grow in friendship, creativity and beauty. Creating a blog whose format is pretty, attractive and a little bit girly. We want to make it easy for you to find answers to those basic blogging questions, when you just need that little bit of extra help.